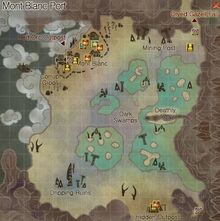 Mont Blanc Port is a region of Blueland. Visually inaccessible, it is actually located south of Red Orc Outpost and is also accessible via the Desolate Ravine.
Berkamia
Charles (Treasure Manager)
Hunter's Union Board
Juke (Port Manager)
Kaysa (Expert Collector)
Merta (Pet Item Merchant)
Namias (Warehouse)
Rober (Treasure Manager)
Seitz (Hunter's Union)
Monsters
Edit
I haven't explored this region yet...
Neighboring Regions
Edit
Desolate Ravine
Dryed Gazell Fall
Red Orc Outpost
No little-known facts to report yet...
Ad blocker interference detected!
Wikia is a free-to-use site that makes money from advertising. We have a modified experience for viewers using ad blockers

Wikia is not accessible if you've made further modifications. Remove the custom ad blocker rule(s) and the page will load as expected.