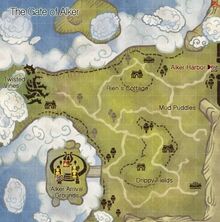 The
Gate of Alker
is the starting region of
LUNA Online
. Here you will begin your journey through
Blueland
. Low-leveled monsters prowl the green hills of Alker.
The Gate of Alker features Levels 1 - 10.
Guard
Guard
Leigh Court (Battle Planner)
Marche (Materials Merchant)
Milriah (Costume Assistant)
Rien (Patrol Party)
Monsters
Edit
Ghost Flower
Fungus Pawn
Red Turtle
King Slime
High Turtle
Neighboring Regions
Edit
The Gate of Alker is the only region to feature a 10-Level gap instead of the usual 5.