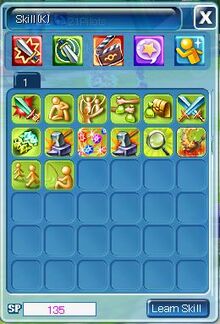 Construction is an important feature in LUNA Online, and learning how to Construct items and other objects is key in becoming a strong, powerful, successful player.
Access the Construct button via the Skill Window (shortcut K on your keyboard) and double-click it to open its corresponding window. You can find the Construct button under the Actions tab (at right).
Construction is one of those things in LUNA Online that is easy to learn, hard to master. Start by either searching for an item by name, or choosing a category and sub-category where the item belongs. Say you are a Mage and you're looking to Construct a weapon from scratch. Choose [Mage Gear] from the dropdown menu and choose either <Weapon> Staff or <Weapon> Wand below it. You will see all of your possible combinations in the area below (see below).
Let's say you want to Construct a Crystal Staff. Well, first, you have to be Level 25 in order to wield it, so level up if need be. Second, take a look at the required items. For a Crystal Staff, you will need three Staff of the Sages. You can obtain these in battle or simply buy them from a Blacksmith. You will also need to provide enough Gold to craft the item, which varies from item to item. For the Crystal Staff, it costs 2,100 Gold. Assuming you have enough Gold and are Level 25 and have three Staff of the Sages, you may then click the Combine button at the bottom of the window and voila - you've Constructed your very own Crystal Staff!