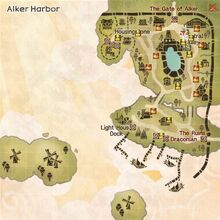 Alker Harbor is one of only two town regions within Blueland (the other being Nera Castletown). Many NPC types can be found here, including a Materials Merchant, Class Leaders, a Blacksmith, and an Armor Merchant. Additionally, dozens of players congregate at Alker Harbor to sell individual wares for a profit. Alker Harbor is a popular place to gather because of its instant availability to the player (whereas Nera Castletown is off-limits to lower-leveled players).
Boucheron (Armor Merchant)
Celerian (Family Manager)
Chef (Cooking Aid)
Ellenshar (Guild Manager)
Event Mouse
Farouk (Magician's League)
Hafreban (Port Manager)
Kitty Cat (House Manager)
Lime (Farm Manager)
Luna (Priestess)
Parada (Sales Rep NPC)
Piellenshar (Warehouse)
Request Board
Spirit of the Forest
Tasarita (Materials Merchant)
Tierre (Rogue Union)
Wiff (Knights Party)
Wisy (Sensibility)
Zank (Blacksmith)
Neighboring Regions
Edit
Alker Farm Region
Desolate Ravine
Nera Harbor
Ruins of Draconian
No little-known facts to report yet...